The Stinkfoot Orchestra pulls no punches – delivering 2 sets of Frank's music via a 14-piece ensemble which incorporates a 6-piece horn section, tuned percussion and 5 vocalists. Oh, and, just to add a little extra garlic, the band is also fronted alternately by 3 of Frank's most iconic vocalists.
Founded in 2019 by Nick Chargin – a 35-year veteran of the SF Bay Area music scene, the Stinkfoot Orchestra spent the pandemic transcribing the music and honing their craft – finally bringing the fruits of their labor to the stage in September of 2021. SFO is dedicated to presenting Zappa's compositions with the respect they deserve and the musicianship required to execute properly.
The ensemble has toured up and down the West Coast since the Summer of 2022 – constantly expanding their reach and exposing a whole new generation to the music as it was meant to be heard while leaving even the most critical Zappa fans pining for more.
Given the amount of effort required to perform much of Zappa's material, one might question what motivates this group of musicians to dedicate themselves to such a huge undertaking. Nick's response is simple…
"This music is historically important – and I feel it is the responsibility of those who 'get it' to help keep it alive and, hopefully, introduce more people to it. On any given night, I realize that we may serve as someone's first exposure to Frank Zappa – and I don't take that responsibility lightly."
"It has been a tremendous amount of work, but I cannot even begin to list the ways in which it has been fulfilling for me as a musician", Nick continues. "Yes, getting the lines under our fingers has been a challenge, but that merely scratches the surface of what it has taken to bring this project to the stage. Most of the horn charts were transcribed by ear from various (Zappa) ensembles by Dbone, Hassan and me – but I had never created a horn chart in my life – quite a way to cut one's teeth…" he says. "Never mind the logistics involved with getting such a large group of working musicians together and dealing with all managerial aspects of the band. Yeah – it's been a full-time job for me for the past few years, but well worth the effort. I'm very proud of what we have put together. Perhaps I'm a bit biased, but I think people are going to be blown away by this project."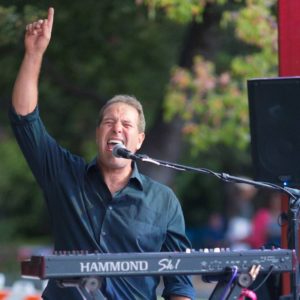 Nick Chargin
KEYBOARDS & VOCALS & VISIONs & poodle grooming
Nick began studying piano at age 5, later picking up guitar at age 15. A California native, Nick moved to San Jose in 1984 to study music production, keyboard synthesis and performance at SJSU under Dan Wyman and Alan Strange. He has been playing professionally since age 17 with the majority of his time spent writing, playing and recording original music with such Bay Area bands as Swing Party, BlissNinnies, Elephino and Corduroy Jim.
Over the years, Nick has shared the stage with such acts as the String Cheese Incident, Leftover Salmon, Zero, the Kantner Balin Cassidy Band, Steve Kimmock, KVHW, JGB, the Radiators, Merle Saunders, Eddie Money, Starship, Firehose, Wang Chung and Jonathan Richman. For the past 15 years, Nick has been a vital part of the critically acclaimed South Bay band, the Houserockers, has backed the legendary Zigaboo Modeliste and at one point assembled a short-lived band playing Zappa music backing Ike Willis.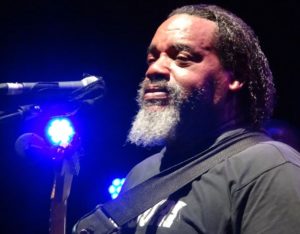 Ike Willis
VOCALS & Painful Urination
It was while in college at Washington University, St. Louis that Ike Willis and Frank Zappa met. As a guitar player since the age of 8, Ike was studying political science. He volunteered to help with the concert committee just so he could get a "Back Stage Pass" to meet Frank Zappa. The rest as they say, is history.
First joining Zappa's band for the fall 1978 tour and remaining in the band for several years. Ike did not tour with Zappa in 1981 and 1982 for personal reasons, but returned to touring with Zappa for his final two tours in 1984 (which Zappa intended at the time to be his final tour) and 1988.
Ike is most recognized as the iconic voice of Joe from Joe's Garage, Ike also contributed on Tinsel Town Rebellion, You Are What You Is, The Man from Utopia, and played the title character and narrator in Zappa's off-Broadway-styled conceptual musical Thing-Fish.
As the one of longest playing members of Frank Zappa's bands, Ike is still upholding his promise to Frank to help keep his music alive. To this day Ike continues to fulfill Frank's wish by playing with some of the best Zappa tribute bands from around the world.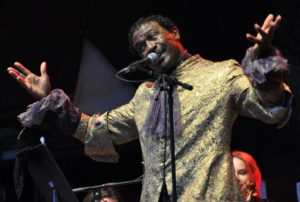 Napoleon Murphy Brock
Vocals & Tenor Sax & Flute & style icon
Napoleon Murphy Brock, front man for Frank Zappa in the early seventies, was first discovered by Frank on a day off in Hawaii. Frank and his band stopped into a club where Brock was leading his band through a set of originals and contemporary funk, rock and blues hits. Zappa was immediately struck by Brock's voice and sax playing, but was particularly taken by his commanding stage presence.
Brock soon hit the stage and studio with Zappa, first appearing on the breakthrough album, Apostrophe ('). By 1974, Napoleon had learned and memorized the Zappa Song Book (including new material written specifically for Napoleon) and recordings from the 1973 concerts were soon released on what many consider to be Frank's penultimate live album – Roxy and Elsewhere. To this day, the all-star "Roxy Band" is commonly considered one of the greatest bands that Frank ever assembled.
The release of One Size Fits All followed which, like Roxy, became hugely influential on not only Zappa fans, but fans of progressive rock, fusion, and bluesy jazz-rock in general. In 1975 Zappa released the iconic Bongo Fury, a live album which documented the collaborative tour that year with the last Mothers lineup (including old friend and co-conspirator, Captain Beefheart).
After the 1975 and 1976 Zappa tours, Brock went on to tour and record with fellow Zappa alum George Duke in his
hugely popular George Duke Band. He went on to make several albums with Duke including Master Of The Game,
Follow The Rainbow, Dukey Treats, and Don't Let Go (which spawned Duke's huge hit "Dukey Stick").
At the end of the 1970's, Frank again called on Napoleon to provide vocals on the recording of Sheik Yerbouti – which went on to become Zappa's biggest selling album worldwide. The fact that Frank called on Napoleon to lay down vocal tracks (including the lead vocal on "Wild Love") speaks volumes about Frank's continued respect and trust in Napoleon's vocal prowess.
Since 2001, Brock has worked with several Zappa tribute bands around the world including Project/Object, the longest continually touring alumni-based Zappa tribute band in the world. In 2007, Napoleon received a Grammy Award for his work with Dweezil Zappa on the live album release from the inaugural tour of Zappa Plays Zappa. He continues to perform, record and lecture around the world.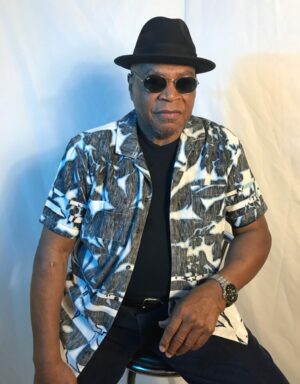 RAY WHITE
Vocals & GUITAR & PROCTOLOGICAL RINSING
Ray first joined Frank's touring ensemble in late 1976 on rhythm guitar and vocals. While being a talented guitarist in his own rite, Ray was primarily brought on board for his strong vocal abilities – and he wasted no time in cementing his place in Zappa history with his performance on the 1978 release, Live in New York. He continued to tour with Frank through 1984 and his unmistakable tenor voice was featured on no less than 15 albums released while Frank was still alive as well as countless posthumous releases.
Ray continued to stay busy with several other projects following Frank's passing including the critically acclaimed Bay Area-based band KVHW (which featured the great Steve Kimmock on guitar), Don't Push the Clown as well as working with several other jam bands including Umphrey's McGee.
Ray joined Dweezil on tour with Zappa Plays Zappa in 2007 and has played a major role in multiple Zappa alumni projects including Band From Utopia and, most recently, the Zappa Band.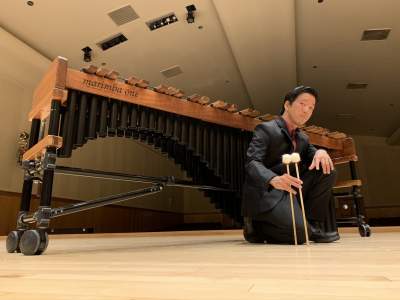 ,
Shota Otaguro
tuned Percussion & Air Bending
Shota Otaguro is a free-lance percussionist from San Jose, California. He got his bachelor degree in Music Performance from San Jose State University, studying under Galen Lemmon to learn classic, orchestral, and contemporary percussion. He has also been to several music festivals like PASIC and ZMF to study under renown artists like Nanae Mimura, Mike Truesdale, and Jack Van Geem. He is currently a member of the San Francisco Brass Band playing timpani.
As a competitor, Shota has most recently won first place at Fremont Symphony's Young Artist Competition in the summer of 2019. In the past, he has been a part of California's PAS competitive festival and has won 1st place for Collegiate solo marimba in 2018, won SJSU's concerto competition in the spring of 2019, and was a semi-finalist at the Great Plains International Marimba competition.
As an educator, Shota currently presents masterclasses in the Pre University Percussion Group, directs percussion sectionals at San Jose Youth Symphony and coaches at Monta Vista High School Marching Band. In the past, Shota has taught and arranged front ensemble music at Homestead High School Marching Band and Winter Percussion for three years and was also the percussion director of the Fremont High School Concert Percussion.
Other than performing, teaching and arranging music, Shota also spends time recording concerts at the California Theater as the videographer.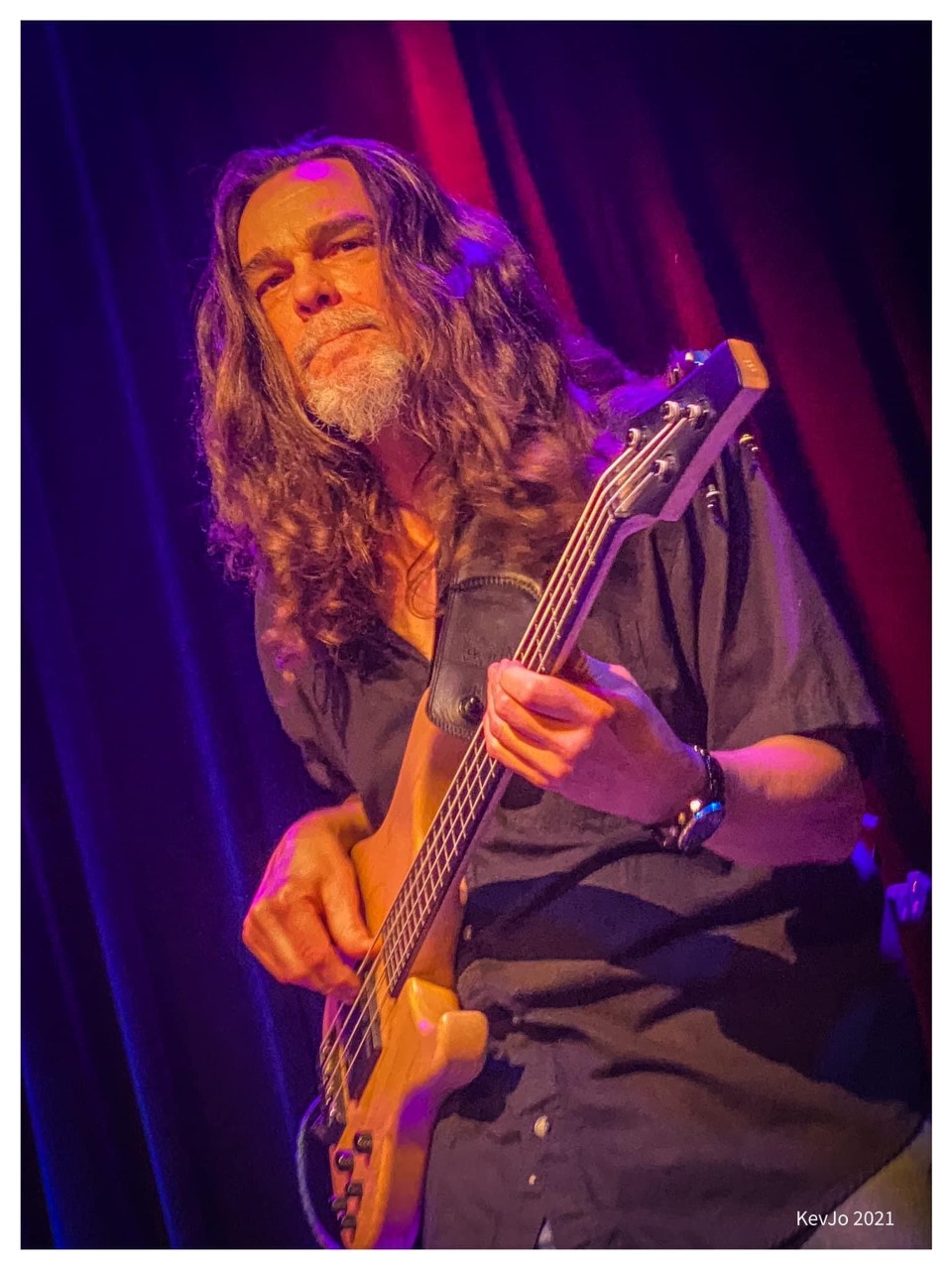 Joey Fabian
Bass & Dangling Participles
Joey began his musical career in Atlanta, Georgia playing in several prominent bands that included members from The Atlanta Rhythm Section, Sea Level and The Glenn Phillips Band. Since his arrival in the SF Bay Area he has had the opportunity to perform almost every conceivable genre from Samba to Soukous, Rock to Reggae, Bossa to Blues, and Funk to Fusion.
Joey has studied bass with Atlanta bassist Rich Nanista and world-renowned bassists Kai Eckhardt and Dean Peer.
He has been honored to perform or record with The Drew Youngs Trio, HUGE., Bridgette DeMeyer, Rossbach Thomas Fabian, Hot Trivet, pop star Alana Davis, Terry Hiatt, BMA nominated singer Paula Harris, Will Ray of The Hellecasters, tours with James Armstrong and Cascada, and critically acclaimed fusion unit The Bartron Tyler Group. He also led his own R&B band "The After Dark Orchestra" and funk/fusion unit "The Joey Fabian Quartet" and performs at science/skeptical events as "The Skeptic's Jukebox".
Joey teaches bass and guitar through Gryphon Stringed Instruments, The Castro Valley School of Music and The Community School of Music and Arts.
He runs his own production studio called "The Tomato Farm" where he produces music, a couple of podcasts, a nationally syndicated radio show, audio editing work, sound design and scoring for a couple of short films.
Joey's love for the music of Frank Zappa began in his teen years after a friend recommended he check out "Zoot Allures". Since his 20's, people that know him recognize his obsession with FZ as a dominant aspect of his personality. So, needless to say he is very pleased to join this rockin' teenage combo.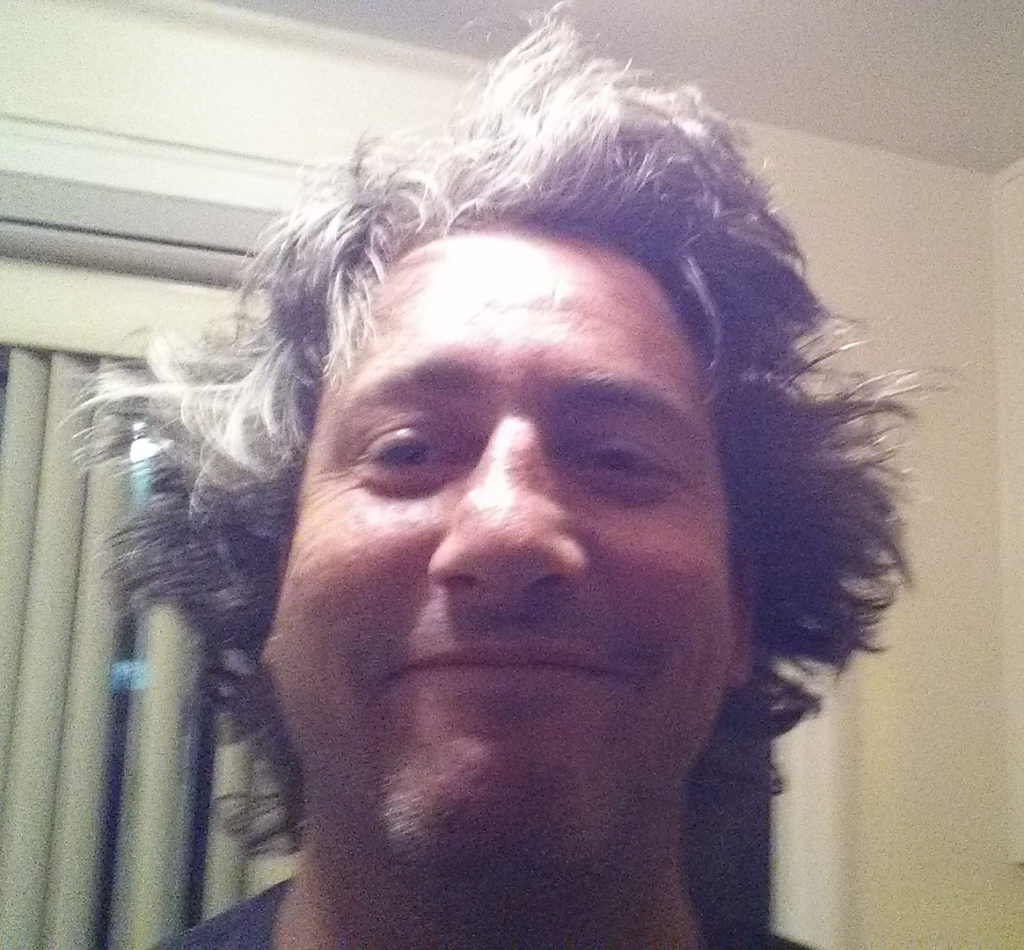 Michael Palladino
Drums & Spankings
Michael has been drumming professionally in the greater Bay Area for over 25 years. He studied various rhythmic styles ranging from jazz to West African and afro-Cuban under the tutelage of San Jose State professors Dan Sabanovich and Royal Hartigan. His band credits include Soup, Sporadic Greetings, Mescalito, Corduroy Jim, Grampa's Chili and Tricycle Side Project, for which he had the opportunity to perform with Ike Willis from Frank Zappa's esteemed list of previous band members. He has performed at hundreds of venues up and down the entire West Coast bringing his unique style and energy to every performance he gives.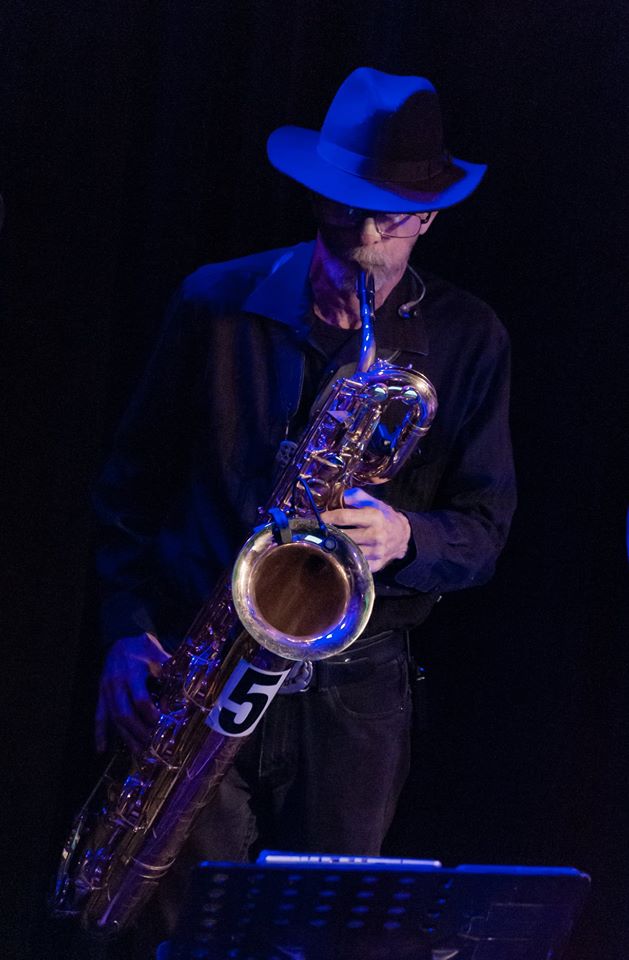 Jon Hassan
Saxophones & megaphones & stank
While the location of and reason for Jon's birth are shrouded in mystery, it is known that Jon was raised by a pack of wild peccaries in the northern mountains of Ecuador. The realization that music was his raison d'être coincided with an unfortunate, yet fateful incident involving Jon's (now infamously) elongated testicular sack and a near-sighted sow with glandular issues.
Now, one must keep in mind that this was long before Jon's integration to human society. Save the occasional wide tie and white collar worn by that bold, new breed of peccary, it was not customary for peccaries or other piglets of a similarly diminutive proportion to wear anything at all, let alone pants.
read more
Being raised by (and, thus, identifying as) a peccary himself, Jon was no different. Well, no different save for the calloused and stretched-out scrotum which constantly dragged 18 inches behind him reminiscent of a 4-year-old's favorite rag doll…
One evening after a particularly satisfying meal, Hassan, engorged on tubers and berries, laid down for a nap. Unfortunately, he did not think to gather in his wayward testicles before falling asleep and a heavyset sow with poor vision who was happening by accidentally stepped squarely upon them. Jon awoke with an ear-piecing squeal that echoed across the snow-capped peaks of the Ecuadorian Andes. But this was no ordinary squeal – due to the cavernous nature of Jon's mis-shaped nostrils and freakishly enlarged sinus cavity, the harmonic overtone structure of his squeal produced a unique tone that has since been compared to an amalgamation of Sun Ra, Pharaoh Sanders and Nina Hägen.
At the time of this incident, it just so happened that the world renowned philostopher (and lesser-known accomplished throat singer) Robert Quentin DeNameland was on an expedition to the peak of Mount Chimborazo. Legend has it that the piercing wail Jon put forth was like a siren song to DeNameland who, upon hearing it, immediately abandoned the expedition and set off on an obsessive quest to track down the source.
After weeks of searching, DeNameland finally found Jon and consequently took on the task of domesticating the wild swine-man. After first outfitting him with a shiny new jock strap and some pantalones, Robert took Jon under his wing and spent the next several years helping him develop his craft. Jon remained under DeNameland's tutelage for several years.
Through Jon's formative years with DeNameland, he learned to not only produce his now signature squeal on demand, but to tame and control it via testicular manipulation. Jon became a big draw in the world of throat singing – eventually mastering the ability to execute the necessary manipulations by contorting his thighs. But the stuff of legend was not truly born until Jon discovered the saxophone…
Upon first learning to play the saxophone, Jon was no different than any traditional sax player – shaping his tone via breath control and manipulation of the reed. But one day, while practicing a Terpsichorian Fugue for Baritone Saxophone and triangle, Jon went to sit down in a chair, inadvertantly sitting on his pendulous testicles in the process. He let out a squeal while still holding his lips to the mouthpiece of the saxophone and the instrument emitted a haunting squonk such as the world had never heard. Jon spent the next 38 years honing his craft – abusing and contorting his testes in pursuit of the signature tone he is known for today.
In his spare time, Jon is an avid collector of harlequin romance novels and he "lives to ride" (unicycles). Oddly enough, despite his peccary upbringing, Jon sustains himself on a strict diet of bacon and California IPAs.
Jon's mustache has had a successful career of its own and is best known for his work as Cousin It's cousin What in the final season of the Adams Family. While many consider his arrival as the point at which the show jumped the shark, he managed to escape the fallout – finding refuge for many years as a stunt double for Sam Elliot's mustache and eventually landing a full-time gig as the stand-in for Carol Channing's vagina.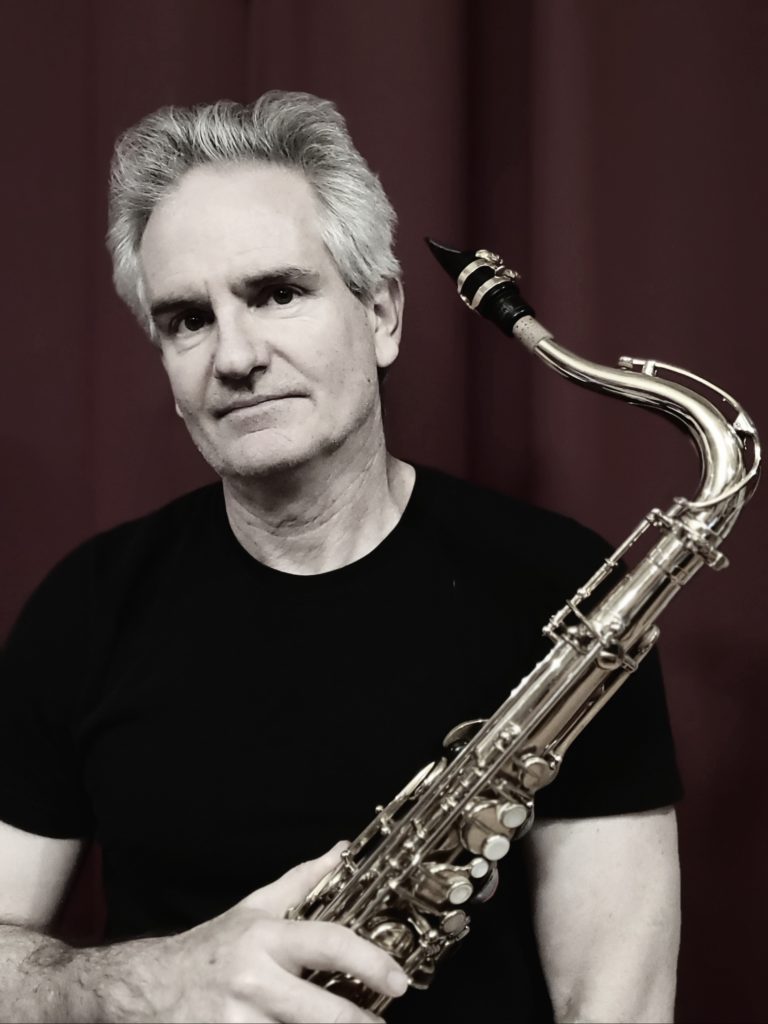 Jo Major
Saxophones & Flute & punctuality
Jo Major began playing professionally in his teens and has played with a variety of groups, including the Jimmy Dorsey band and the University of Illinois Jazz Ensemble. In the local area, he has been featured with A Touch of Brass, the KA Wonton Little Latin Jazz Big Band, Bug Horn Rex and the Chabot Jazz Ensemble.
In settings ranging from salsa to swing, he has been featured with Ernie Watts, Bobby Shew, Eric Marienthal, Wayne Bergeron, Francisco Torres, and Geoffrey Keezer.
Jo has studied with Ben Torres, Kristen Strom, Charlie McCarthy, Bob Reynolds, Chad Lefkowitz-Brown and Chris Cheek. He is a member of Bob Reynolds Studio.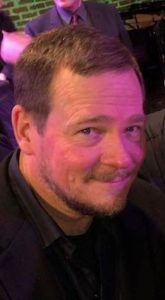 Mike McWilliams
Trumpets & crumpets
Mike McWilliams started playing the trumpet back in 1974. In 1986, he began performing with cover bands and performing all over the SF Bay Area. He currently is a member of the Houserockers horn section, and teaches private lessons as well as public middle schools with the School Spirit band program.
Mike believes that there is no substitute for real horns, and his influences include Tower of Power, Earth Wind and Fire, Maynard Ferguson, and Doc Severnsen. Mike heard his first Zappa cassette tape in 1977 while on tour with the Santa Clara Vanguard and, many years later is enjoying playing this amazing music.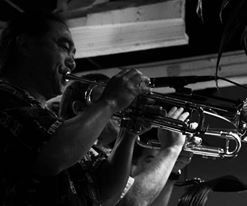 Kevin Kono
Trumpet

& Fluglehorn & mastic adhesives
Kevin grew up in San Jose, CA and was told that he had to play an instrument (anything but drums) when he was a kid. So… he picked the trumpet because it had only three buttons to push. His lifelong attempt to play something musical on that hunk of brass with three buttons has given him the opportunity to play with many amazing musicians during this journey and become lifelong friends with so many great people.
Kevin currently plays lead trumpet with the Daddios Big Band, Nineteen Jazz Orchestra and is honored to be playing the trumpet book with Broadway San Jose for national tours of musicals that come thru the Center for the Performing Arts. He also toured with the Santa Clara Vanguard for three years and subs with other bands in the area (including the Houserockers and Touch of Brass) and is looking forward to playing the outstanding and challenging music of Frank Zappa.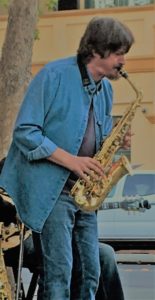 Paul DegEn
Saxophones & Flute & hydrohypnotherapy
Paul Degen has been playing flute since Elementary School and saxophone since Middle School. In High School he entered the Gifted and Talented program with an emphasis on woodwind performance. In College, Paul studied Classical Flute (Charles DeLaney) and Jazz Saxophone (Bill Kennedy) at Florida State University, and by his senior year sat in the coveted lead alto chair in the top FSU Jazz Ensemble.
After College Paul moved to Los Angeles to begin his career as a progressive rock saxophonist and flutist. By the late 90's Paul took a hiatus from playing music to concentrate on his career as a musical instrument repair technician and has been repairing full-time ever since. He was known in Los Angeles as "the repairman to the stars" or "the sax doctor," doing tech work for such notables as Wayne Shorter, Wallace Roney, Edgar Winter, Big Jay McNeely, Wilton Felder, Red Holloway, Gerald Albright, Najee, and Jackiem Joyner. After moving to San Jose in 2016 Paul began performing music professionally again as a freelance musician. He is currently playing Lead Tenor in a Touch of Brass Big Band. He also a featured member in East Side Funk. More recently he began leading his own band, the Paul Degen Project. He is also the owner of Paul Degen Music, where he keeps busy teaching and repairing full-time in San Jose. Paul greatly enjoys getting back to his progressive Rock roots by playing the Zappa book with the Stinkfoot Orchestra.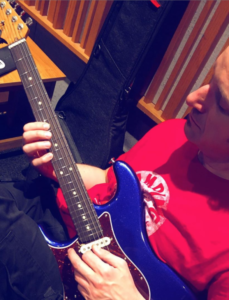 Tomek Sinclair
Guitars & all things polish
Born and raised in Warsaw, Poland, Tomek cut his teeth performing and recording with experimental/post-rock bands such as Primitivo, avant-rock joke band Krolowie Zycia, and electronica artists Meoma in the 1990s. After moving to the U.S. in 2000, he joined several bands in Denver, including Beast with Two Backs, while continuing to gig with friends in Warsaw and Berlin and studying North Indian classical music with sitar maestro Roshan Jamal Bhartiya.
Tomek's relocation to the Bay Area in 2011 didn't prevent him from keeping things happening in Poland. In fact, he played venues ranging from Oakland's grungy Night Light to the prestigious Littlefield Concert Hall at Mills College with artists such as Majaal (trip-hop), prog-pop quintet Anml Prty, singer-songwriter Cinnamon Lips, and vocal/guitar improv duo Mantra Plonsey while collaborating with electronic artist/composer Bartosz Weber and spoken-word/avant-garde project Śmierć i łzy.
Most recently, he has stayed busy with the Warsaw Improvisers Orchestra, the jazz-rock improv trio No To Do, and world music/groove with Voodoo Cabaret.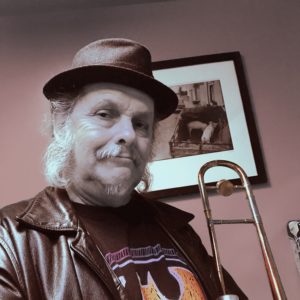 Rick Brown
Trombonisms & ever-changing facial hairs
Born & raised in Omaha, Nebraska, Rick started playing trombone when he was 8 years old, and has now been playing trombone for 60 years.
He played in big bands, concert bands, & Dixieland Bands throughout junior high, and high school.
An alumnus of Berklee College of Music in Boston, he attended as a Composition & Arranging Major, with trombone as his major, studying with Tony Lada, Phil Wilson, Charlie Banacos, & Raul DeSouza while in Boston.
Rick spent many years immersed in Omaha, & Lakota Sioux communities, learning,& singing at powwows, Lakota Sioux sundance's, and ceremonies for over 35 years.
He was an over-the-road truck driver for 27 years, and used to practice on cornet with his bootlegged cassettes of Jamey Aebesold's volumes that were in all 12 keys, to keep his chops up while driving.
He didn't lose any teeth from bumping into the steering wheel, and nobody was killed.
Rick studied the Turkish Ney with Timuçin Cevikoğlu when he moved back to the Bay Area in 2011.
After employment related injuries as a SF Bay Area driver, he was taken off work, and started playing trombone full time.
Rick has played as a member of several Bay Area jazz, brass, & Latin bands, and has performed as solo trombonist in duets, trios, quartets, at many venues; Bird & Beckett, Mr. Tipples, The Cheeseboard, Revolution Cafe, Cocotte, The Royale, The Saloon, and other quaint establishments.
He currently plays a weekly Wednesday gig at Comstock Saloon in North Beach SF, with his quartet, "The Peninsula Project".
Rick would like to thank Mike Rinta for the referral to the Stinkfoot Orchestra!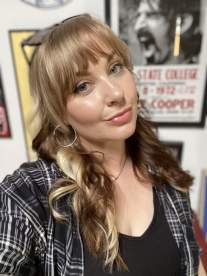 Lainey Leone
Vocals & FRolicsome Freestyling
Lainey started singing when she was young and became involved with musical theater and choirs throughout school. While at Ohlone Community College in Fremont she performed with the Ohlone Chamber Singers, where she developed an interest in opera and took voice lessons with Janet Holmes. During this time she formed a band named Ruptured that was a fusion of punk, metal, and hip-hop. When that band broke up three years later, she became the operatic singer for the gothic hip-hop group, Kung Fu Vampire.
Her eclectic taste in music led her to graduate with a B.A. in World Music and Cultures at San Francisco State University in 2012 under the teaching of Hafez Modirzadeh. The choirs and projects she participated in while at SF State include: The SFSU Chamber Singers, Jazz Choir, Afro-Cuban Ensemble, Creative World Ensemble, Aava (Persian fusion), and UniverSoul (new-age, universal concept band). During her time at SFSU she also began studying Eastern European folk music with Lily Storm who is a singer for the Balkan women's choir, Kitka.
After college Lainey taught voice, piano and guitar lessons for 8 years and was briefly in the indie band, The Red Fences. In 2017 she went back to school to become an interior designer and is happy to dive back into performing with the Stinkfoot Orchestra!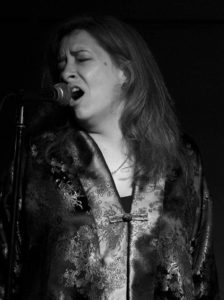 Lizie Skow
Vocals & Dwarf Tossing
Lizie Skow is a longtime San Francisco resident, writer, singer and aspiring curmudgeon. She has been a professional singer since the age of 16.
An accomplished background vocalist, Lizie sings with several Bay Area groups like The Mutants, Swindlefish and the Third Thursday Band.
Her goal is to sing as much as she can with the best musicians possible, so Stinkfoot Orchestra is a fantastic opportunity.
Victor Manning
Guitars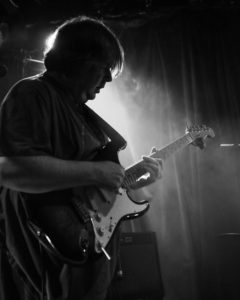 August 8, 1961 – April 23, 2019